Carlson Reportedly In Talks With Trump To Moderate A Presidential Debate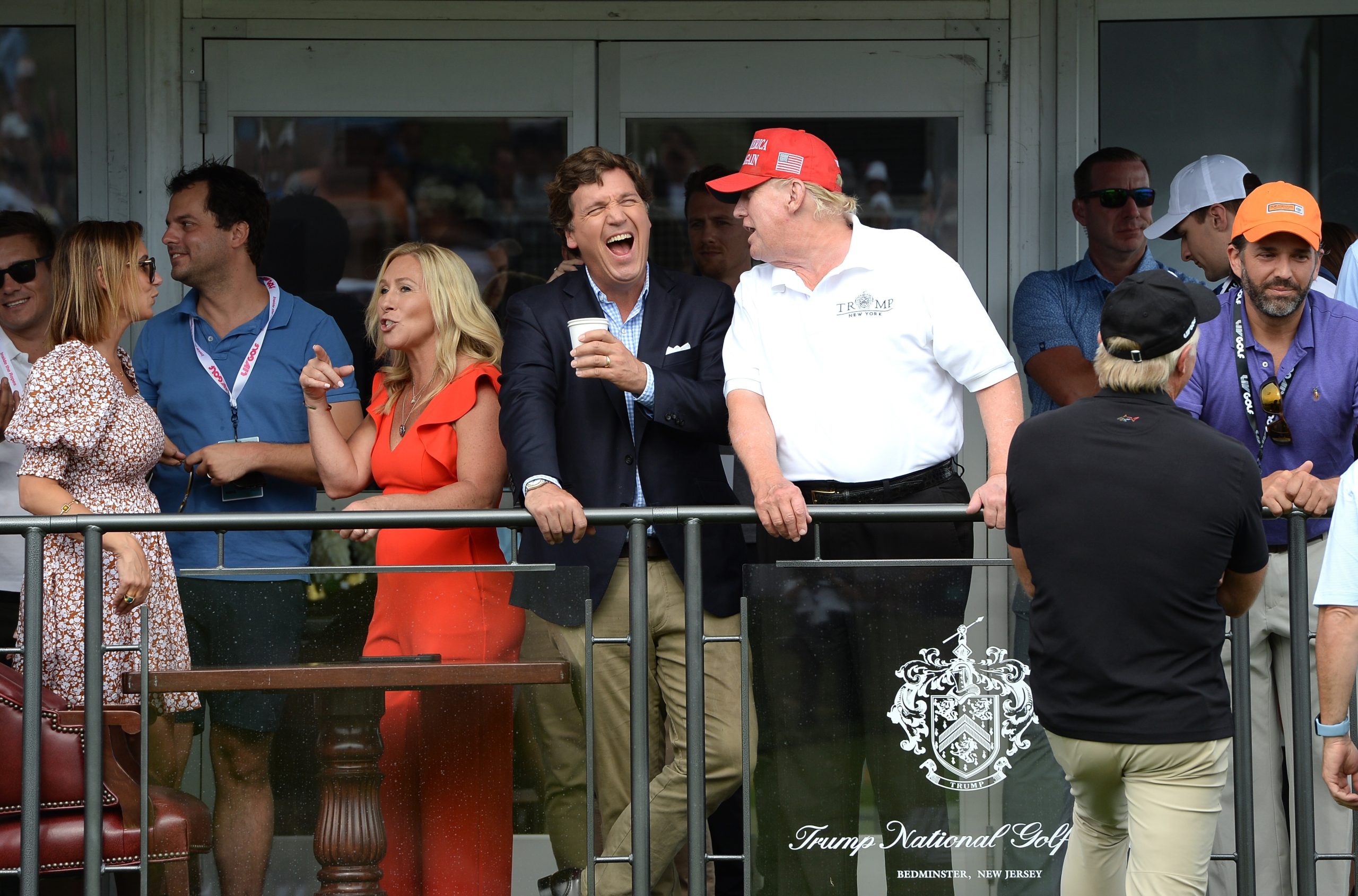 Like Freedom Press? Get news that you don't want to miss delivered directly to your inbox
Former Fox News host Tucker Carlson is reportedly interested in moderating a presidential debate, and has already begun talks with former President Donald Trump about the idea, according to a new report.
Carlson was abruptly ousted from his position at Fox News on April 24, and the network has been hemorrhaging viewers ever since. According to one report, Fox News has lost roughly half of the average viewers from Carlson's time slot. Many subscribers to the network's streaming service, Fox Nation, have also canceled their membership in response to Carlson's firing.
While numerous theories have been put forward about the motivations behind Carlson's firing, one thing is clear — he is still bound by his contract with Fox News, and thus he will be silenced for some time. However, reports have indicated that Carlson has hired a high-powered attorney, which has led to speculation that he is trying to get out of that contract.
He has made one public statement since leaving Fox News, in the form of a video posted to Twitter where he implied that his viewers could expect to see him in another venue soon.
"When honest people say what's true, calmly, and without embarrassment, they become powerful," Carlson said on the video. "At the same time the liars who've been trying to silence them shrink, and they become weaker. That's the iron law of the universe. True things prevail."
Since his firing, people have begun speculating as to where Carlson will end up next — including Newsmax, The Blaze, The Daily Wire, Valuetainment and even Rumble, a free speech competitor to YouTube. He has reportedly received offers from several of these outlets already.
According to the Washington Post, Carlson's next destination may be a moderator spot in a Republican presidential primary.
The outlet noted that Carlson appears to be willing to break his contract with his former employer, giving up millions of dollars of his salary in order to pursue other opportunities before his contract would officially end in 2024.
The report also states that Carlson has spoken to Trump about the potentially moderating a debate, though it does not include any further details about the conversation.
Trump has spoken out about Carlson's ouster from Fox News, writing in a post on Truth Social: "The fact that Tucker Carlson will no longer be on FoxNews is a big blow to Cable News, and to America. Tucker was insightful, interesting, and ratings gold. He will be greatly missed!"
The news that Trump and Carlson are discussing the possibility of the former news anchor moderating a debate comes after Trump announced that he was considering skipping the Republican primary debates altogether — citing the fact that the Republican National Committee (RNC) had not consulted with him before scheduling the debates and their decision to choose "hostile" networks to moderate them.
"I see that everybody is talking about the Republican Debates, but nobody got my approval, or the approval of the Trump Campaign, before announcing them," he wrote on Truth Social. "When you're leading by seemingly insurmountable numbers, and you have hostile Networks with angry, TRUMP & MAGA hating anchors asking the 'questions,' why subject yourself to being libeled and abused?"
"Also, the Second Debate is being held at the Reagan Library, the Chairman of which is, amazingly, Fred Ryan, Publisher of The Washington Post. NO!" Trump added.