James O'Keefe Responds To Being 'Removed' By Project Veritas Board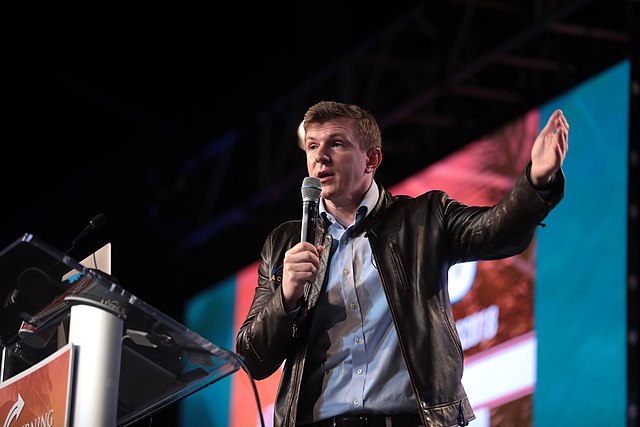 Like Freedom Press? Get news that you don't want to miss delivered directly to your inbox
Legendary undercover journalist James O'Keefe, who founded Project Veritas in 2010 and grew the nonprofit to become a major success, has been ousted in a coup by the organization's board of directors.
O'Keefe is the face of Project Veritas, a nonprofit that uses undercover journalism to expose politicians, organizations, the mainstream media and even major companies like Pfizer.
Despite the fact that many critics of the decision have said that "there is no Project Veritas without James O'Keefe," the organization's board members have decided to remove him from his position as CEO for a list of nebulous and absurd reasons.
O'Keefe announced the news on Monday, sharing a 45-minute video of himself speaking about the matter with his now-former employees.
In the video, he revealed that he had been "removed" and "stripped of [his] authority" by the Project Veritas board and now has "no position here based upon what the board has done."
In his classic exposé fashion, O'Keefe read his resignation remarks on video in front of the Project Veritas staff, explaining his side of the story.
"Journalism is reporting things powerful people want kept hidden for the wrong reasons — moral wrongs, bad behaviors — as journalists, we're custodians of the public's conscience," he said.
O'Keefe then explained that "on President's Day, I'm packing up my personal belongings here" — while also recounting highlights from his career since he founded Project Veritas.
From the ACORN exposé to getting raided and arrested, to multiple exposés of Planned Parenthood and his most recent viral video exposing Pfizer, the legendary undercover journalist fondly recalled the important work he had accomplished in his career thus far.
He went on to respond to some of the remarks made by the board of Project Veritas, both in public and in private.
"Leadership has a price and results often come at a human cost," O'Keefe said. "Many people want the fruits of leadership such as its power, results, Twitter followings, secondary effects — but the price of the responsibilities, burdens, trials, hardships, difficult decisions, or just sheer suffering, I don't think people want that."
"All through the years, things fundamentally continued on an upward trajectory for this place," O'Keefe added.
He then pointed to the coincidental timing of his removal from the organization, noting that it comes very soon after Project Veritas exposed wrongdoings at Pfizer — and pointing out that this was the only thing that changed recently in the weeks leading up to his ouster.
"The only thing that has changed is we broke the biggest story in our organization's history," he said regarding the exposé of Pfizer, a video he argued had become "a global phenomenon" due to having over 50 million views.
"And then suddenly, an unusual emergency happened just a few days after that," O'Keefe added before delving into the timeline of how the matter unfolded.
O'Keefe described the allegations against him that supposedly prompted the firing, which included outrageous claims that he once "stole a pregnant woman's sandwich in federal court" and blatantly false claims that he used company funds for his wedding — despite the fact that he has never been married.
He also revealed that a board member had sent a message to a Project Veritas employee bragging about getting a raise if the organization gets rid of O'Keefe.
Earlier in this saga, the board claimed that O'Keefe was just taking some well-deserved time off — but he revealed in the video that they had actually forced him to leave and told him not to speak to donors, among other things.
"I'm not sure what my job here is," he said while providing evidence for his assertions including minutes from board meetings where he was placed on leave, denied access to donor information and stripped of his power within Project Veritas.
Denouncing the board's actions as an "emotional circus," O'Keefe again questioned "why there was a concerted effort to remove me the week of the biggest story we've ever had."
"My dear team, I do love many of you," he added. "I never said those words, but I'll say it now. I still believe we have a long and bright future together somehow, someway."
"You are amazing people," O'Keefe continued, adding: "The only way to defeat us is if they take our spirit. And from the looks of things, many of us remain completely undefeated and unbroken."
"So, our mission continues on," he concluded, getting a little emotional. "I'm not done. The mission will perhaps take on a new name, and it may be no longer called Project Veritas. I'll need a bunch of people around me, and I'll make sure you know how to find me."
Watch the full video below:
Meanwhile, the official Twitter account for Project Veritas has lost close to 250,000 followers in the aftermath of O'Keefe's removal. The majority of comments about the issue on Twitter have blasted the organization's decision and vowed to end their support for Project Veritas and transfer it to whatever venture O'Keefe creates in the future.
Several major donors for Project Veritas have already demanded their money back from the organization, especially funds they have donated during the period between O'Keefe's removal and the news becoming public — claiming that the board lied to the public about his removal during that period.
Another donor who was reportedly mentioned in the allegations against O'Keefe, Dianna Remmers, also refuted those allegations in a video posted to Twitter.