McCarthy Still 'Far From' Being Speaker, Says Challenger Andy Biggs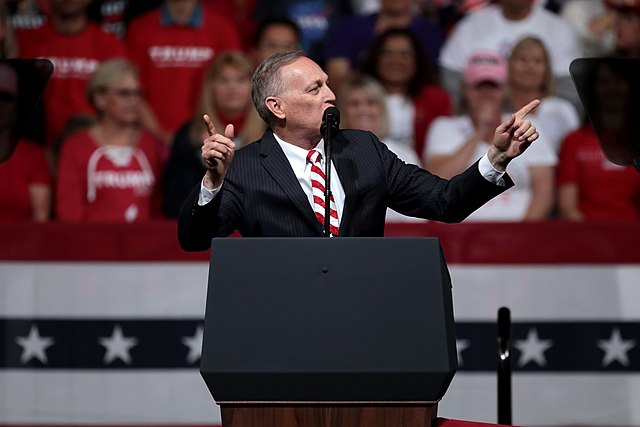 Like Freedom Press? Get news that you don't want to miss delivered directly to your inbox
Rep. Andy Biggs (R-AZ), who challenged House Minority Leader Kevin McCarthy (R-CA) for the GOP nomination for Speaker of the House on Tuesday, now says that the California congressman is still "far from" having the votes necessary to take the position.
During an appearance on Newsmax's "Eric Bolling: The Balance" on Wednesday, Biggs called McCarthy an "establishment" politician — and pointed out that he does not have enough votes to become speaker.
House Republicans voted on Tuesday to nominate the 53rd Speaker of the House. McCarthy received 188 votes, while Biggs, a former Freedom Caucus chairman, received 31 votes. The official vote for speaker will happen in January, and McCarthy will have to find at least 218 votes by then.
"Well, there's no two ways about it: Kevin is going to be establishment, but he is so far from getting the 218 [votes] that he needs," Biggs told Newsmax. "He didn't even get 200. He didn't get 190."
"He has a long way to go," he added. "And so, he's probably going to try to do something. I'm not sure he'll ever get to 218 votes."
The Arizona congressman went on to conclude that, "if it's not going to be Biggs, it's not going to be McCarthy" — saying that House Republicans will have to choose an entirely new candidate that everyone can agree on.
"We're probably going to have to get a consensus candidate that fewer than three or four people oppose," Biggs said, warning that "that's how close this majority is going to be, it's going to be three or four votes."
In a different interview on Newsmax, Biggs argued that McCarthy is reluctant to use tools such as impeachment to hold people like Homeland Security Secretary Alejandro Mayorkas accountable.
"To get people on board, he has to convince them that he can be trusted to use every tool in the toolbox to stop the Biden regime and their attack on America," he told Newsmax's "National Report."
Biggs also noted that, under McCarthy's leadership, the House has "failed to deliver" on promises made by Republicans to the American people.
"He's been in the leadership for six years now," he said. "I remember when I first came in 2017. We failed to deliver on so many things that we promised. We didn't even put up for over a year a bill that had a clean repeal of Obamacare."