Far-Left Georgia Dem Stacey Abrams Claims Fetal Heartbeat Is 'Manufactured'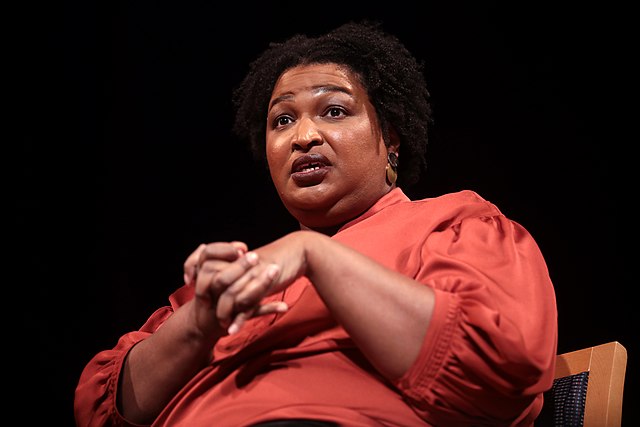 Like Freedom Press? Get news that you don't want to miss delivered directly to your inbox
Like many other Democrats across the country, Georgia gubernatorial candidate Stacey Abrams is attempting to rally voters around the cause of abortion.
During a recent panel discussion, she attacked pro-life advocates who favor a so-called heartbeat law that would prohibit most abortions after six weeks into a pregnancy.
"There is no such thing as a heartbeat at six weeks," she claimed. "It is a manufactured sound designed to convince people that men have the right to take control of a woman's body in place of her."
She did not offer any elaboration, such as how the sounds of a developing child are supposedly "manufactured."
In fact, the Charlotte Lozier Institute, which is the nonprofit research and education arm of Susan B. Anthony Pro-Life America, found that a fetal heart "is actively beating at 6 weeks" and "will beat approximately 54 million times" prior to birth.
The Republican National Committee shared a clip of the remark, calling Abrams an "abortion extremist" who "supports NO LIMITS on abortion."
A number of prominent conservatives targeted Abrams for making the seemingly absurd claim, including columnist Stephen L. Miller, who called it a theory "that ultrasound machines, used in hospitals now all over the world, were designed by a cabal of men, to manufacture a sound beat on purpose, in order to convince women to keep unwanted pregnancies."
While her strategy when she squared off against GOP Gov. Brian Kemp in 2018 hinged on claims of voter suppression, she has made it clear that she hopes abortion will be her key to victory in this year's rematch.
https://youtu.be/YqrKrz_7kHA
"Women deserve full citizenship in the United States and certainly in the state of Georgia, and they are being denied that because of Brian Kemp's 6-week ban," she claimed. "We are driving not only doctors and nurses out of the state, we're likely going to drive jobs away. And that should be terrifying to anyone regardless of your political persuasion."