McCarthy's Prospects For House Speaker Uncertain At Best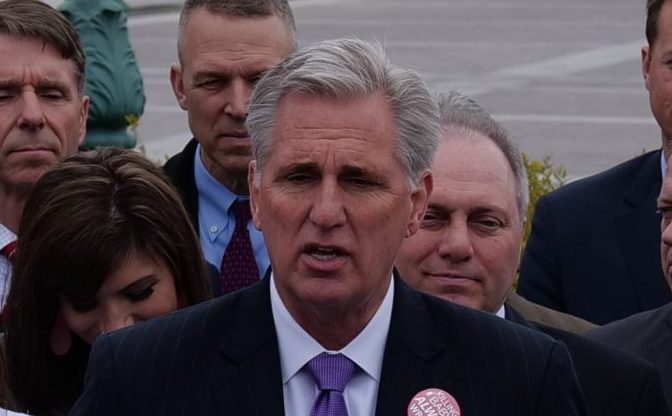 Like Freedom Press? Get news that you don't want to miss delivered directly to your inbox
In the weeks leading up to last week's midterm elections, it appeared to be a foregone conclusion that House Minority Leader Kevin McCarthy (R-CA) was a virtual lock to replace Speaker Nancy Pelosi (D-CA) as the leader of the lower chamber when the next Congress is seated in January.
However, when the "red wave" predicted by most pollsters did not materialize, McCarthy's prospects became much less clear. In fact, it still remains uncertain whether Republicans will take control of the House for the next two years.
The GOP must win at least 218 House seats to reclaim the majority and have the power to elect the next Speaker. As of Monday afternoon, RealClearPolitics indicated that Republicans have only locked up 212 races, with 18 still to be decided.
NBC News did project on Monday afternoon that the GOP will eventually take a 219-216 House majority when every race is called.
A majority that narrow is likely to present some problems for a McCarthy speakership campaign. All 435 House members vote at the beginning of each new Congress every two years for Speaker of the House. At least 218 votes are needed to ensure a majority for any candidate for the leadership role.
House rules require that additional votes must be held if a majority is not reached on the first ballot until a Speaker is elected with a simple majority. The election of a Speaker has not gone to a second vote since 1923.
Many experts believed that before Election Day there were somewhere around 7 to 10 House Republicans who have said they will not support McCarthy to become Speaker under any circumstances. Depending on the final outcome of the midterms, that number could grow.
Rep. Jim Jordan (R-OH) is a leading rival to McCarthy for the Speaker's gavel. Jordan campaigned against McCarthy to become Speaker in 2018. Rep. Steve Scalise (R-LA) is also rumored to be a strong possibility for Speaker if McCarthy's campaign crumbles. As a result, it is vital to McCarthy that he remain in the good graces of Jordan, Scalise, and President Donald Trump if he expects to stand a realistic chance at election.
Because of the GOP's lackluster performance compared to expectations for the midterms, it is not a foregone conclusion that President Trump will support McCarthy to lead a closely divided House against the Biden administration and a Senate still under the control of Majority Leader Chuck Schumer (D-NY).
Under any circumstances, it appears that if McCarthy expects to build a winning coalition to support his run for Speaker, he will have to approach the House Freedom Caucus in a more compromising way on a wide range of issues.
He will be expected to take a more aggressive position on impeachments for unlawful acts by Democrats in power and standing firm against raising the debt ceiling, among other issues important to President Trump and America First lawmakers.