White House Fears Hunter Could Doom Joe Biden's 2024 Campaign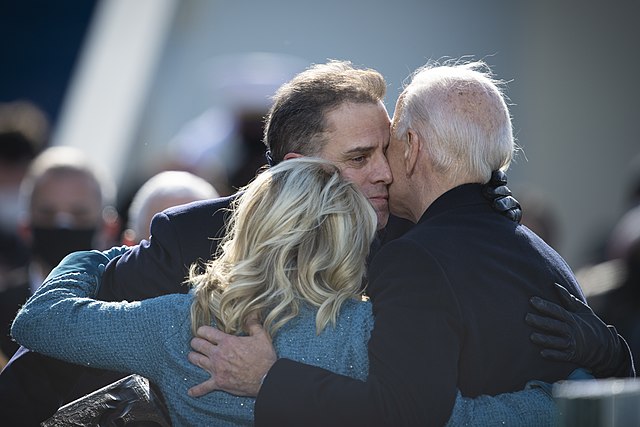 Like Freedom Press? Get news that you don't want to miss delivered directly to your inbox
Biden administration aides reportedly fear that Hunter Biden's shady business activities could ruin President Joe Biden's potential 2024 presidential campaign, according to a report from Politico.
The Republicans' planned investigations into the Biden family — should they regain control of the House in the upcoming midterms — could potentially derail any hope of President Joe Biden being reelected.
Three Politico journalists — Eugene Daniels, Jonathan Lemire and Jordain Carney — published an article about the issue, writing, "If a GOP-led House turns up the heat on Hunter Biden, it could weigh heavily in the president's decision to run for a second term."
"White House officials said Biden is preparing to seek reelection, but a final decision likely won't be made for several months, with the first lady having an outsized influence. Some aides believe that Biden could forgo another campaign if it would shield his family from hostile congressional investigations," the article continued.
Rep. James Comer (R-KY), ranking member of the House Oversight Committee, and Rep. Jim Jordan (R-OH), ranking member of the Judiciary Committee, have both vowed to initiate investigations into the Biden family business after Republicans regain control of the House.
"We've got a lot of opportunities. We've got a lot of work to do. Obviously, we're going to have some high-profile committee hearings on the investigations dealing with Hunter Biden," Comer told Politico.
House Republicans' potential investigations have likely caused concern among many within the Biden administration, with aides starting to prepare strategies to deal with the "investigative onslaught."
Speaking with Breitbart News back in August, Rep. Matt Gaetz (R-FL) revealed that the GOP may even create a select committee specifically to investigate the Biden family. Rep. Nancy Mace (R-SC) made similar statements to Breitbart, asserting that it is "absolutely" an option to investigate the president himself.
"I think it can be done over oversight. There's plenty there [to investigate]," she told the outlet. "But if that is not enough, once the traditional committee process investigates – then by all means – a special committee would be another option, absolutely."
Hunter Biden is reportedly under investigation for several crimes — including tax fraud, money laundering, gun violations and foreign lobbying violations — by Trump-appointed U.S. Attorney David Weiss of the District Court for the District of Delaware.
A recent poll from Rasmussen found that 62% of registered voters believe that Joe Biden likely consulted and potentially profited from his family's business dealings, while 58% of voters believe that the president actually played a role in the family business. The poll also revealed that 60% of voters think that Hunter Biden sold "influence and access" to his father.
While the president and his staff have asserted on at least seven occasions that Biden had played no part in his family's business, evidence indicates that the president was involved in at least 17 instances.