DeSantis Celebrates Victory: 'Florida Is Where Woke Goes To Die'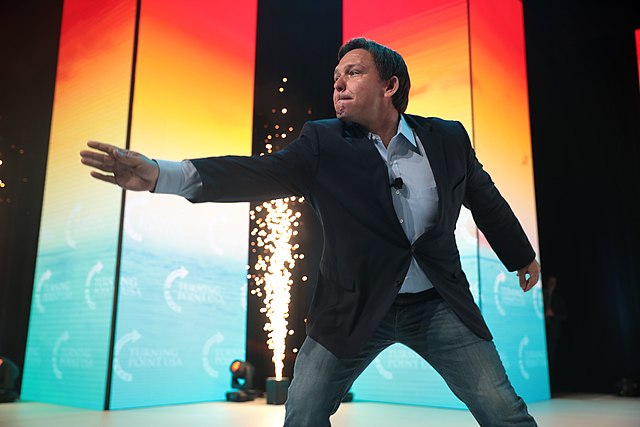 Like Freedom Press? Get news that you don't want to miss delivered directly to your inbox
Florida Gov. Ron DeSantis celebrated his decisive victory in Tuesday's election by declaring that "Florida is where woke goes to die."
The incumbent Republican governor won a blowout victory over Democrat challenger Charlie Crist, securing his reelection by 19 points.
DeSantis flipped several Democrat counties by several percentage points, including Miami-Dade, Palm Beach, Osceola, Hillsborough and Pinellas.
Speaking to Floridians following his victory, DeSantis touted his conservative policy positions.
"We have embraced freedom," the governor told the raucous crowd. "We have maintained law and order; we have protected the rights of parents; we have respected our taxpayers; And we reject woke ideology."
"We fight the woke in the legislature. We fight the woke in the schools. We fight the woke in the corporations. We will never ever surrender to the woke mob," DeSantis added. "Florida is where woke goes to die!"
"Now while our country flounders due to failed leadership in Washington, Florida is on the right track," DeSantis continued. "I believe the survival of the American experiment requires a revival of true American principles."
"Florida has proved that it can be done, we offer a ray of hope that better days still lie ahead," DeSantis noted. "I am proud of our achievements in this state. I am honored by your support and I look forward to the road ahead."
This is a unique loss for Crist. According to reporting from Breitbart News, the Democrat candidate has now "lost statewide as a Republican, a Democrat, and an Independent."
"In fact, he may be the only American politician in our nearly 250-year history to lose statewide as a Republican, Democrat, or Independent," the outlet noted.
After choosing to leave the governor's office in 2010, where he was a fairly popular Republican governor, Crist decided to run for Senate. He was ultimately defeated by Republican Marco Rubio in the state's GOP primary. He then decided to become an Independent in an unsuccessful attempt to defeat Rubio and Democrat Kendrick Brett Meek in the general election for Senate.
Crist later became a Democrat in 2012, endorsing then-President Barack Obama for reelection over Mitt Romney, claiming that Romney was too extreme.
He then tried to run for governor as a Democrat in 2014, ultimately losing the general election to Republican Rick Scott by less than a point.
Crist did end up winning a few elections, running for Florida's 13th congressional district in 2016 as a Democrat — he was reelected twice.
His final loss came this year in the 2022 election against Gov. Ron DeSantis.